---
Tofurkey delivers with incredible product copy.
This incredible packaging packs so much information in four little sentences, it's mind-boggling.
---
My wife and I have been vegetarians for over ten years but have never given alternative meat a fighting chance. This year my parents bought us a Tofurkey's Plant-Based Holiday Feast and, man, were we blown away.
Not only is the meat tasty, which gave us both a full-blast of holiday nostalgia, the copywriting on the packaging is surprisingly effective. Take a look…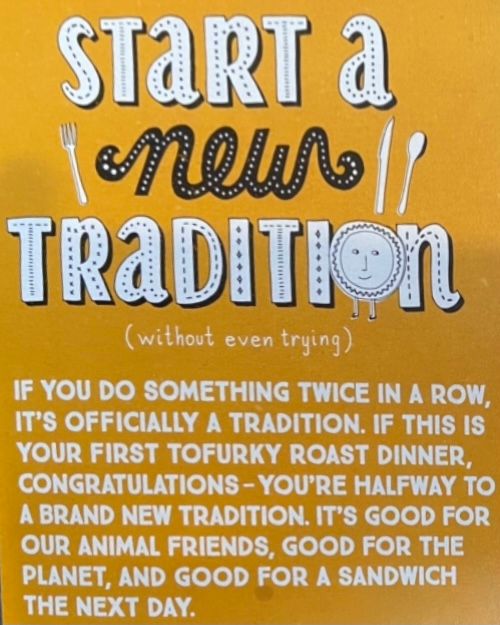 Great, right?
Here's why it works:
The copy is about the consumer
Thanksgiving, the holidays, whatever — it's ultimately about tradition. But it's not the 1950s anymore.
There are plenty of folks like us that simply don't eat meat.
That doesn't mean we don't like the tradition. Tofurkey invites vegetarians like us to participate, and to create something new from the old.
The call to action is easy
New traditions start when you've done something at least twice. If you enjoy Tofurkey on Thanksgiving this year, why not do it again next year?
It's no pressure really, but the company is playing the long game.
They know if you like this new tradition, you'll invite others to it too. You might even expand it to Christmas. Eventually you'll be adding Tofurkey products into your everyday life.
But this box says none of that. Just do it again next year if you like.
The copy lists the benefits
Everybody loves tasty leftovers after the holidays. Tofurkey is great on your plate, but also perfect on a sandwich.
Beyond that, you're helping the planet and saving animals.
Who doesn't want to be a hero?
Start a new tradition
Not everyone can write copy this good. But a great place to start is by creating a swipe file.
Every week I research a new ad, throw them in the file, and do a little analysis (just like this) on why the piece works so well. Oh, and I'll do your homework for you if you'd rather not write yourself.
'Till next time…
— Mike
---
---
P.S. Don't walk away empty-handed
Above the Fold is a newsletter about the power of marketing. Every week I send stories just like these straight to your inbox.