---
Patagonia told people to stop buying their clothing. They sold over $10 million dollars in apparel that day.
Turns out that making quality products and sticking to your message is a good way to grow a company to $1 billion dollars.
---
Yvon Chouinard was out climbing one day sometime around 1957. He dug his spike into a sandstone cliff near Stoney Point in Southern California's San Fernando Valley, made his ascent, then moved on. But an overwhelming sense of guilt took hold of him.
"This is so wasteful," he thought to himself.
You see, at that time climbing spikes were meant to be driven into the rock and left. Every time you wanted to make a climb, you'd have to buy new spikes.
So Yvon invented something new.
He started making reusable chrome-molybdenum steel climbing pitons that he'd sell to fellow climbers out of the back of his car.
Fast-forward a decade and a half, and Chouinard was using this experience to launch one of today's leading outdoor clothing brands in 1973 — Patagonia.
Quality clothing that will last a lifetime
From the beginning, Patagonia was dedicated to making quality clothing that would last a lifetime.
Chouinard chocks this up to lessons learned for his father.
I really believe that all of us should be buying less but buying better. My father was a tradesman and he taught me that when you buy a tool you buy the absolute best tool that you can get and you keep it for the rest of your life. And that is much better than buying a cheap tool and having it break, and then buying another cheap tool and having it break. So, that's just the way it is.
—Yvon Chouinard at The Commonwealth Club's Climate One Conference
But Patagonia was also dedicated to the Earth, sustainability, and leaving behind a legacy that gave more than it took.
This type of "cause marketing," a business strategy employed by for-profit businesses that seek to both increase profits and to better society in accordance with corporate social responsibility, was radical when Chouinard founded Patagonia.
The company's mission statement says we build quality products, which leads to less consumerism, which leads to less environmental waste.
Patagonia wants you to buy their products once and only replace them when they are worn beyond repair.
They are so adamant about this message that they go out of their way to alienate customers who are wearing the brand to be trendy.
Don't buy this jacket
Patagonia is a company that never uses the word "new". The style of their products rarely changes and they emphasize that their clothing is made for people who are going to use it, not just wear it. It's a tool for rugged outdoorsfolk, nothing more.
In 2011, Patagonia turned this message up to 11.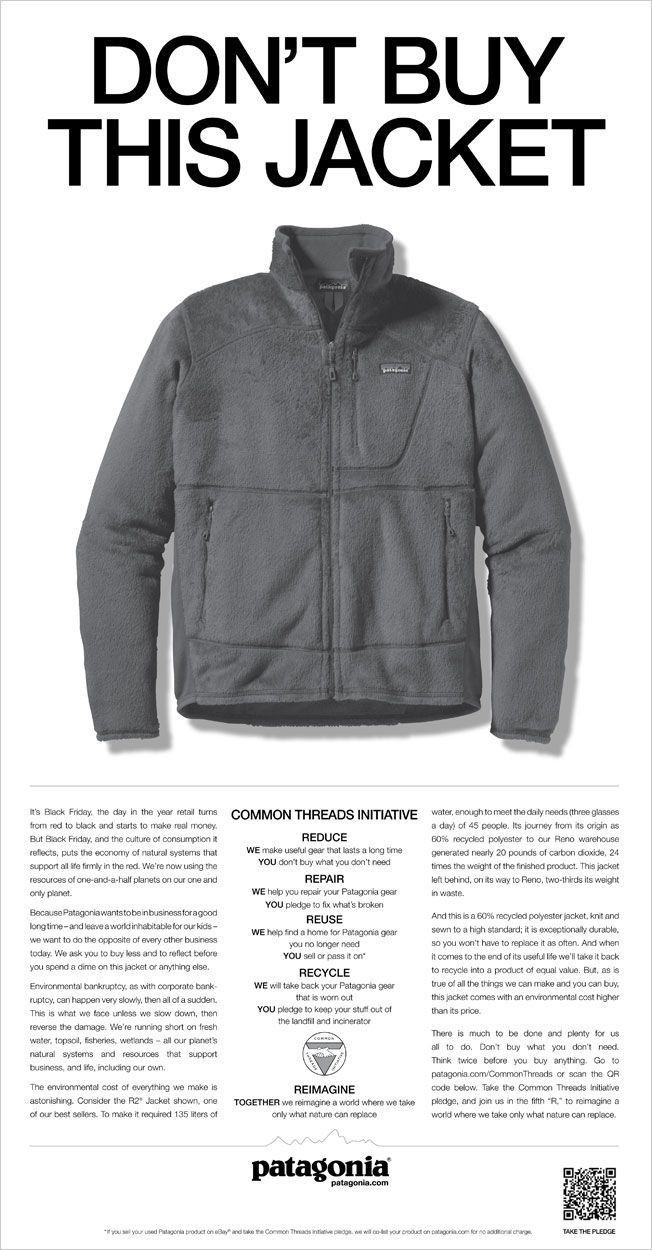 They took out this ad in the New York Times Black Friday edition.
"Don't buy this jacket."
It's a clear critique of consumer culture and does a great job explaining the environmental impact of a single jacket (while also humble bragging of the quality of their products):
The environmental cost of everything is astonishing. Consider the R2 Jacket shown, one of out best sellers. To make it requires 135 liters of water, enough to meet the daily needs...of 25 people.
And it ends with a recitation of what we can only imagine the old tradesman, Father Chouinard, told a Young Yvon long ago:
Don't buy what you don't need. Think twice before you buy anything.
In the center is something Patagonia calls the "Common Threads Initiative." It's a kind of contract between the company and its consumers.
We promise to make quality products, but don't buy it if you don't need it.
We will help you fix broken gear, but you must pledge to repair over replace.
We find homes for used gear, but you can't hang on to it if you're done with it.
We'll take back overly worn gear, but you promise to stop throwing things away.
And yet, it feels more like the rules of a relationship. A list of expectations between two friends with a common interest. It's not transactional.
It's an acknowledgement that, "Hey, we both have a responsibility to ourselves, each other, and the environment. Here are some easy ways to fulfill that responsibility."
The ad was a huge failure
Patagonia's yearly sales revenue tripled between 2008 and 2015, rising to $750 million dollars. Today, they're a $1 billion dollar company.
In 2016, they ran another Black Friday Campaign and donated all daily sales. They were able to generate over $10 million dollars for environmental protection groups around the world.
This campaign clearly failed to get people buying less. But maybe we're missing the big picture.
Now that millions more people have Patagonia products maybe they'll be buying less and reparing clothing more in the future. Only time will tell.
— Mike Doane
---
---
P.S. Don't walk away empty-handed
Above the Fold is a newsletter about the power of marketing. Every week I send stories just like these straight to your inbox.