---
Here's the secret to writing body copy that converts.
A couple years ago, Amazon sent out a template email that contained the secret formula that every copywriter follows.
---
Your job as a content and copywriter is to have readers' eyes falling down the page like a stuntman barreling down Niagara Falls.
Varied sentence and paragraph length are what get you to that coveted goal.
We're not writing a third-grade essay. Not every paragraph needs to be five sentences long. In fact, that would be a detriment to your copy.
People are skimming while scrolling. Cater to that fact.
ATTN:

This article is a snippet from Content Marketing for Myth-Makers and Tellers of Tall Tales — a 10,000 word guide on understanding your customers, crafting great copy, and writing stories that convert.

Get a copy.
The Amazon were rumored to cut off their right breasts
Ancient Greek legend has it that the Amazons were a band of roaming warrior women.
They were worshippers of Artemis, goddess of the wild. This means they were hunters. It also means that their skill with the bow was unmatched.
This great skill was only hampered by one thing.
You see, when an archer draws her bow, she draws a clean line with the bowstring from her left forearm to her right shoulder. All the power of the arrow is gained from the release of her right fingertips.
The bowstring, like a rubber band, is pulled back into its normal place and sends the arrow flying to meet its target.
Being women, their right breasts naturally got in the way of this draw and release.
So they did the only logical thing.
When a promising Amazonian archer reached maturity, they lopped off her right breast.
This sentence has five words
Amazon (the shipping and entertainment mega-conglomerate) lops off their right breast by providing their marketing team with tricks that make writing easy.
Like great headlines formulas, there are also tricks to writing perfect sentences.
A long, long time ago in internet time, Amazon accidentally sent out a templated email to thousands of customers. Oops.
But the email template is a great lesson for writers like us.
Take a look at the advice contained within the template, originally from Gary Provost's book Make Every Word Count: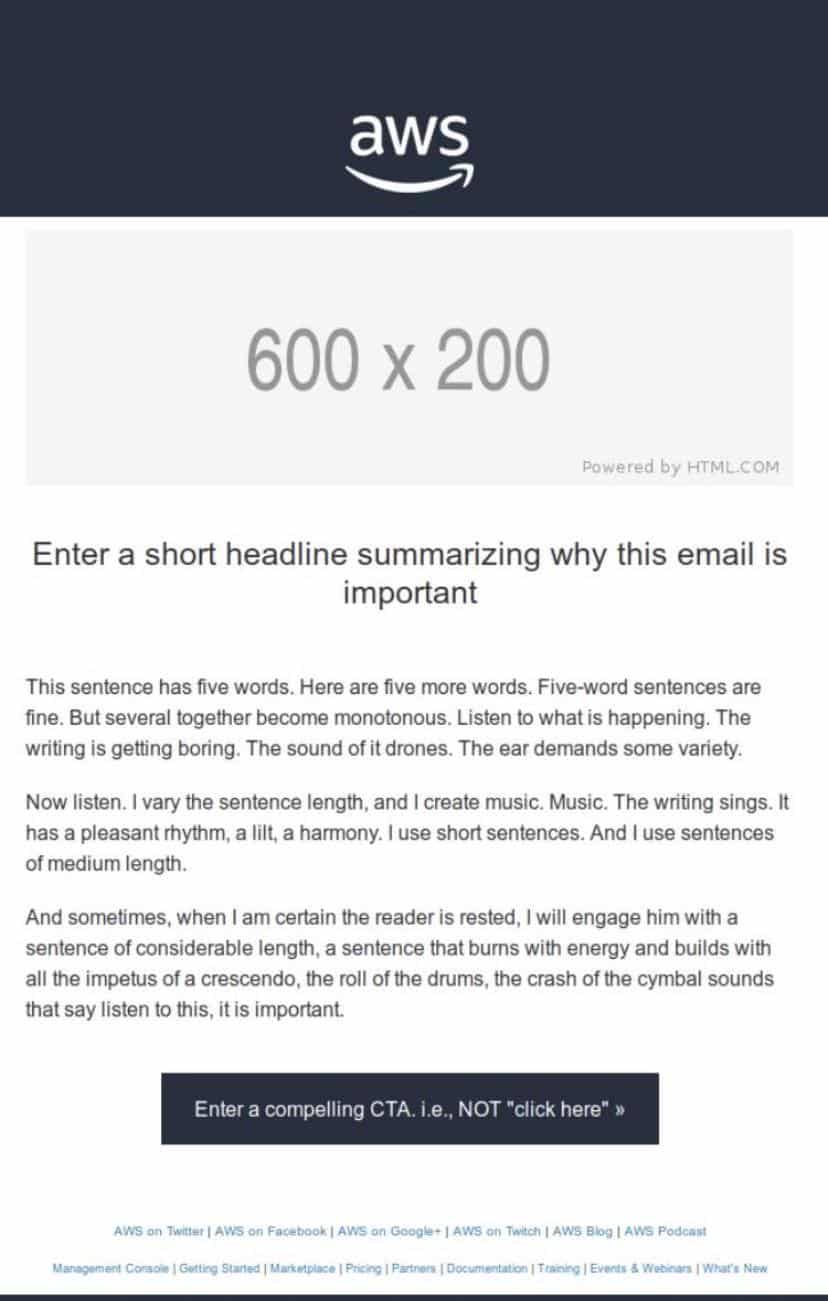 Be easy on your readers' eyes. Give them something they can easily digest before giving them something substantial.
They want to dip their toes before jumping in.
It's your job to make it possible.
— Mike Doane
---
---
P.S. Don't walk away empty-handed
Above the Fold is a newsletter about the power of marketing. Every week I send stories just like these straight to your inbox.