---
How Chemex uses their product guides to upsell customers and increase profits.
This company has been making beautiful coffee brewing products since 1941 — here's how they position their user manuals for content marketing.
---
When marketers talk about content, they usually mean social media, blogging, or email newsletters. But customer experience is an important stop along the marketing journey as well, and one that's often overlooked.
Chemex, a company that's been making coffee brewing products since 1941, understands how to create an experience around their product and upsell customers along the way.
They include a little users manual with every coffeemaker.
Take a look: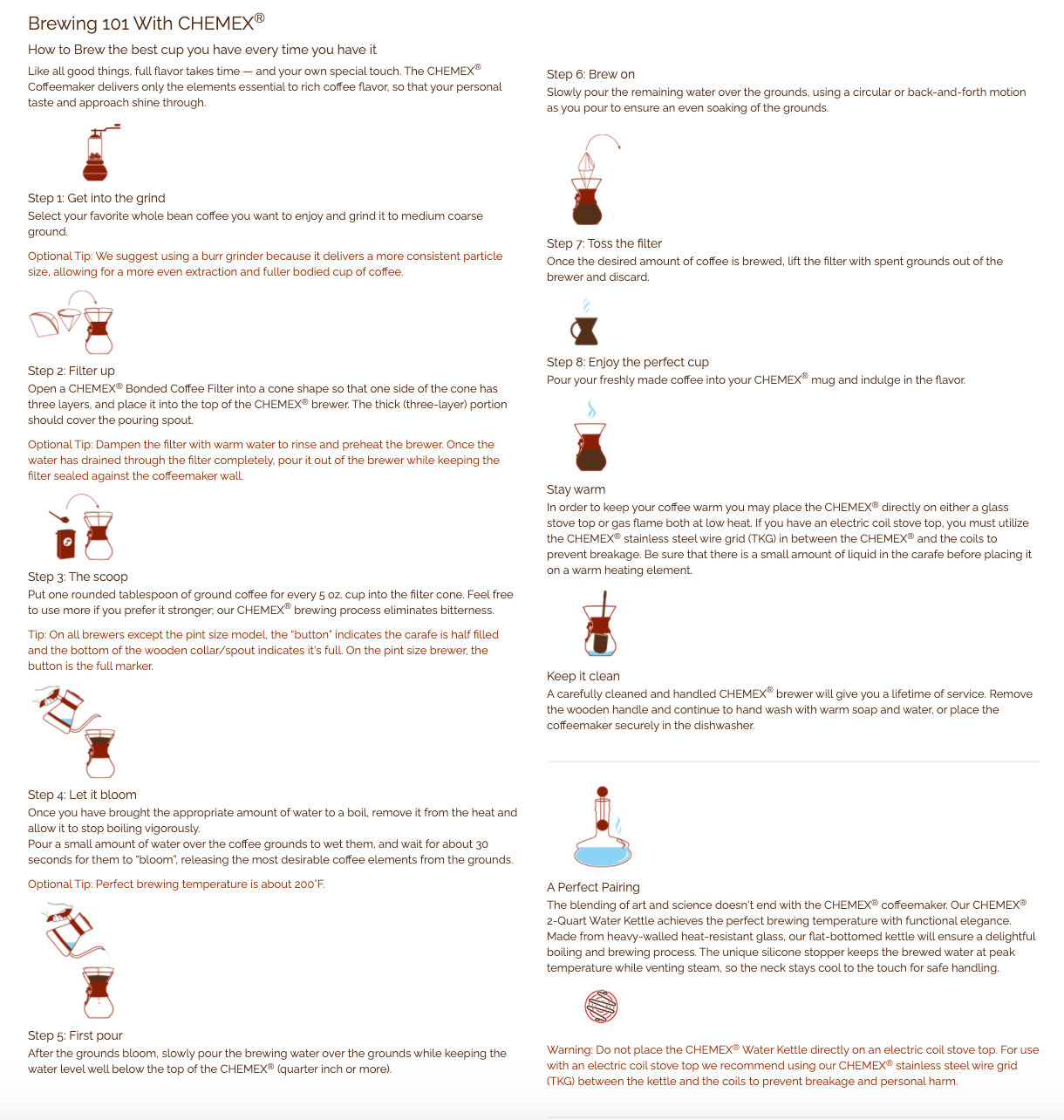 Education as an ad
Their method may seem more complicated than popping a K-cup in and pressing the button to brew, but what Chemex promises is a full-flavored, personal experience that will translate to the best cup of joe you've ever had.
Along the way they offer a few tips:
Use a Chemex filter for the best brew
If you want to keep your coffeemaker warm, get a Chemex wire grid to avoid breakage
Oh, and we've got a water kettle too!
This last part is a great call to action written particularly well.
"A Perfect Pairing — The blending of art and science doesn't end with the CHEMEX coffeemaker."
Product marketing that doesn't feel salesy
The Chemex users manual is a helpful guide to refer back to every time you use Chemex to brew your coffee. And yet, there are subtle little sales pitches that masquerade as tips and tricks along the way.
This is what good content marketing paired with a product guide does.
It identifies pain points, provides and solution, then positions additional products you offer as a way to get more out of the experience.
— Mike Doane
---
---
P.S. Don't walk away empty-handed
Above the Fold is a newsletter about the power of marketing. Every week I send stories just like these straight to your inbox.